Properties:
Sealed lead acid batteries
Can be used in any position
Cheaper than a GEL battery
Better performance with a shorter duration / higher current discharge
A smaller battery size can be used for higher discharge
Absorbed Glass Mat Technology (= AGM)
Up to 500 cycles
AGM batteries are built differently than open lead acid batteries. In AGM batteries there is a fiberglass mat between the plates that is saturated with acid/electrolyte. This mat is then packed between the plates and compressed. This ensures a super-fast reaction between the acid and the plates. Because the sheets and mats are tightly packed, they are almost immune to vibrations. Stationary AGM batteries have a life span of 12 years "floating use".
This type of battery is maintenance-free, in normal use there is no gas formation. The little gas that would still occur is returned to the electrolyte, so the batteries should never be refilled. Also no ventilation is needed anymore, for safety there is an overpressure valve on the battery. The batteries can be installed in any position, except upside down.
Due to the high production cost these batteries are a lot more expensive than open lead acid batteries, but still cheaper than GEL batteries.
DAS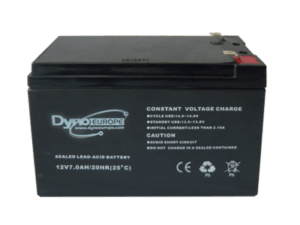 The range Dyno Europe DAS batteries consists of maintenance free AGM batteries of 4, 6 & 12V. With capacities from 0.8 to 100Ah / C20. With a lifetime of 5 years "floating use".
These batteries are suitable for stationary or stand-by applications and must therefore mainly serve as backup in the event of a power outage. So that critical devices would still have the necessary power. Just think of emergency power for hospitals, servers, telecommunication, ….
These batteries are not suitable for cyclic applications where the battery must be regularly charged and discharged.
DSW
Especially for alarm systems we offer our AGM DSW batteries. Since they must be a reliable source of power for your security, they must be top-quality! Our range consists of the 6 most commonly used sizes from 1.3 to 18Ah (C20).
Average lifetime: 5 years "floating use"
Front access
Front access batteries are designed for telecommunications, railways and power stations, …
In our AGM range you will find batteries from 33.7 to 215Ah (C20).
Benefits:
Long service life: 12 years of floating use
Standard dimensions for placing in racks